You may have found yourself in a situation where one of your parents can no longer live at home and needs to move into a skilled nursing facility. AgingCare.com notes that it can be a difficult and emotionally challenging time. But there are things you can do to make the process less stressful and painful for you and your parents. Read on for some insights from Attorney Aubrey Harry Ducker Jr.
Finding the Right Nursing Home
When choosing a nursing home for your parents, it's important to allow your other parent, their spouse, to have a say in the choice too, since they'll probably be visiting there the most often and may even see it as a possibility for themselves one day.
You'll, of course, want to consider the level of care, but it's also important to take note of the activities and amenities available. Ask for recommendations from friends, clergy, and physicians and visit the different places in person and take time to talk to the staff.
Paying for Senior Living
The cost of nursing home care is expensive no matter where you live, and it's important to understand all your options in paying for it. Medicare may pay all or part of the care for either a short or extended period, but since there are so many factors that impact the amount they'll pay, it's best to check with Medicare directly, their Medicare management insurance company.
Ask your parent if they purchased long-term insurance or private health insurance, which should also cover some of the nursing home expenses. If they own property or other financial assets, it may be best for you to speak to an attorney who specializes in elder care.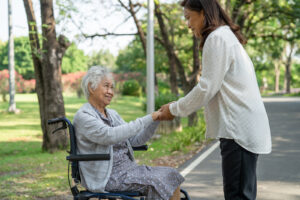 Downsizing the Family Home
If your other parent is staying in the family home, they may need to downsize to a smaller space. This can be a difficult process since it involves sorting through years of accumulated belongings. When deciding what to keep and what is no longer practical to hold on to, it can be helpful to rent a storage unit nearby for some of the items rather than simply discarding them. That way, if they change their mind, it's nearby and not gone for good. In time, most of those items will be forgotten, and you can revisit what you want to do with them later on.
Selling the family home to help pay for elder care makes sense, and many times there is enough equity in the home to pay for the nursing home for many years without having to rely on the retirement income and savings of the other parent. To get an idea of the home's value, search online at the selling price of similar homes in the area, then subtract how much, if any, is left on the mortgage loan.
If you're able to provide care or assistance, it may be cheaper to instead rent an apartment or home for your parents that are closer to yours. That way they can stay together and you will have an easier time assisting them. Go online to check out what rentals are available in the area they would be most interested in and check on monthly rates to get an idea of affordability. There are plenty of options in Orlando, which currently has more than 1,300 apartments available for rent.
Take Care of Yourself
Caring for an aging parent can be emotionally challenging, and it's important to take care of yourself during this time. Dr. Christiane Northrup advises carving out time for self-care and getting support from friends and family or a counselor if needed.
Keep the lines of communication open between yourself and both your parents so that no unnecessary disagreements occur that could result in bad feelings.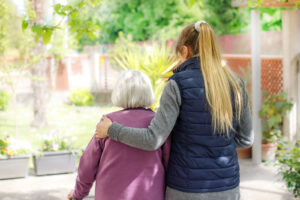 When It's Time to Sell Their Business
If your parent is no longer able to properly run their business, it may be in their best interest as well as that of their business to sell it. You can help them sell their business by knowing what's involved. First, help them assess the value of their business. This can be done by looking at the
business's financials and assets and comparing them to similar businesses that have been sold. You may want to consult with a business valuation expert, too.
If the business is structured as an LLC, then the easiest way to transfer ownership is to dissolve the business, then create a new one with the remaining partner or partners. Be sure to consult the LLC operating agreement first, though, to make sure you're in compliance with all the stated rules and regulations.
Overall, moving a parent into a nursing home is a complex process that involves many difficult decisions. By doing your research, exploring your options for paying for care, knowing what it takes to sell your business, and seeking support when needed, you can ensure that your parents receive the care they need in a way that is best for everyone involved.
Attorney Aubrey Harry Ducker Jr. takes pride in the conflict prevention approach and conflict resolution approach to family law and senior law cases. Call us today for more information! 407-584-3534