Special Education & Covid-19 Effects
Special Education & Covid-19 Effects. The pandemic has had a big effect on all of us. But one thing Covid really hit hard was our school systems. Children with special needs to be specific. Students with special needs, their parents, and educators faced uniquely complicated challenges during the pandemic.
What is Special Education?
Special Education covers a range of needs. From children who could use a little help with reading to children with visual or hearing impairments, to children with multiple disabilities. Special Education students have Individual Education Plans, or IEPs, which are legal contracts between schools and parents. That set goals for the child and outline the special education services to be provided.
Preparing for back to school
Things as big as the pandemic have a large and possible long-term effect on Students with special needs. Around 7 million in the U.S. ages 3 to 21 can be afraid of the coronavirus pandemic, and its attendant school closures can be especially scary. When normally Special Needs students can get one on one professional attention. These professionals are trained in, and deeply familiar with, their unique ways of thinking, perceiving, and processing. The only problem is that no amount of love and care at home can turn the average parent into a special-education teacher overnight.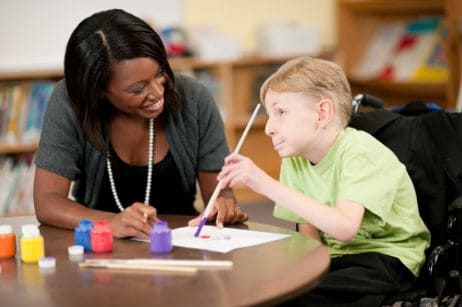 Teachers also have the proper practice occupational, speech. Or physical therapy. Services that are provided in many schools. But even these practices are not always covered by insurance and can therefore be otherwise out of reach.
"A lot of students have had one-on-one professionals with them in the classroom, along with general-education and special-education teachers supporting them," Elizabeth Barker, an accessibility researcher with the Northwest Evaluation Association, told me. "Now we're asking parents to step into all of these roles."
Online School Troubles
For most special education students, the online tools that other children have are not always accessible. Online platforms such as zoom and Microsoft Teams, printed work packets can be more difficult to use than other children. Students with disabilities often use assistive technology; for instance, a student with visual impairments might use screen-reader software to have text read aloud, or a braille reader to read the text themselves. But a lot of online platforms aren't compatible with assistive technology—and even when they are, other problems frequently arise.
"Generally speaking, in special education, one of the strategies that work the best is a structured routine—and that's gone," said Leandra Elion, a lecturer in the Eliot-Pearson Department of Child Study and Human Development. It's now parents who must establish that routine, "and there is no prescription for what that looks like in a COVID-19 world."
IEP Meetings
If a child has an IEP, then by law it is rewritten each year, and the child must be reevaluated every three years. This is to determine whether they're still eligible for special education. Also, if a student is new to the special education system, the school must evaluate the child within 30 school days. After another 15 days meet with the child's family. But during the COVID-19 quarantine in the spring, schools did little or no testing.
Parents should request an IEP meeting with school personnel to exchange input on how the child's neurodevelopmental needs are being met in the COVID-19 context of the child's IEP. If the child's needs are not being met via the current structure, the parent/caregiver or IEP team members should request a meeting and problem-solve this together.
What is an Individual Education Plan?
Once a child qualifies for special education based on IDEA, an Individual Education Plan (IEP) must be created. The IEP documents the student's current abilities and yearly goals for the student. The IEP documents and what shorter-term objectives. The student should be able to achieve. So that they can their yearly goals. This document serves as a formal agreement between the school and the parents. This agreement determines what special education services the school will provide and how long the services will go on before there is additional testing. The agreement will determine how the school will help transition the students if they no longer need the services.
Contact Attorney Aubrey Harry Ducker Jr. Today for Help
Is your child's school failing to properly evaluate your child for a developmental disability? Is the written IEP being followed? If not, then it is time for you to speak with an Orlando special education lawyer. Attorney Aubrey Harry Ducker Jr. can guide you through the process so that you can make clear decisions on your child's future. Stand up for their rights in the school system. Contact the Orlando office of Attorney Aubrey Harry Ducker Jr. today to learn more.
Struggling with child custody or a divorce? If you are seeking legal representation contact Attorney Aubrey Harry Ducker Jr. handles every legal representation from family law to elder law. Call us at 407-645-3297 or send us a message. Visit Aubrey Harry Ducker Jr's Office.  Attorney Aubrey Harry Ducker Jr. serves Altamonte Springs, Longwood, Maitland, Orlando, Oviedo, Winter Garden, Winter Park and Winter Springs, and surrounding areas.