Aubrey Harry Ducker Has Received the 2022 Bar Register of Preeminent Attorneys – Listed Lawyer Award
The Bar Register of Preeminent Lawyers is THE definitive guide to the most distinguished attorneys in America… Providing Instant Credibility.
"Aubrey H. Ducker is an "AV" rated Preeminent Attorney as rated by Martindale Hubbell, the oldest lawyer rating service. He practices Central Florida, concentrating his practice primarily in the areas of Collaborative Divorce, Elder Law, Family Law, Guardianship, Estate Planning and Probate. He provides expert analysis and opinion on matters of complex conflict resolution, Collaborative Estate Planning and when required, Litigation." – From Martindale Hubbell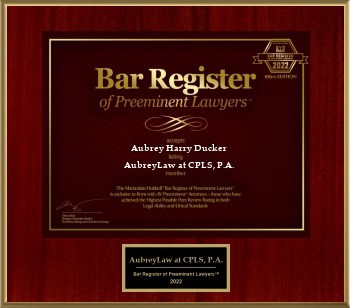 The Bar Register of Preeminent Lawyers
For over 100 years, the Bar Register has been a unique guide to the legal community's most eminent professionals. It includes only those select law practices that have earned the highest rating in the Martindale-Hubbell Law Directory and have been designated by their colleagues as preeminent in their field.
The Martindale-Hubbell Bar Register of Preeminent Lawyers is an invaluable reference for lawyers, buyers of legal services, and other information professionals looking for the leading practitioners in a given location or practice area.
The American Registry – Well-Deserved
The American Registry has helped individuals and businesses promote their excellence by creating the absolute best displays of your awards.
About Aubrey Law
As a Family Law Attorney, Aubrey Harry Ducker Jr. takes pride in conflict prevention approach and conflict resolution approach to family law and senior law cases.  Aubrey Harry Ducker Jr. treats every one of his clients with respect and kindness. Attorney Aubrey Harry Ducker Jr. values meeting new clients. Aubrey Harry Ducker Jr. utilizes his experience to direct them through various family law and senior law matters, including:
Adult Guardianships
Child Custody
Divorce
Estate Planning
Child Support
Wills & Trusts
Trust Administration and Litigation
Probate Administration and Litigation
Guardian Ad Litem